by tommysticks
20. Nov 2013
TommyGuns 1.2.7
TommyGuns extra weapons mod!
Created by Tommysticks
This Mod adds the following:
Guns
Melee Weapons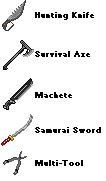 Misc
Please read the readme file, installation can be a little confusing. There is also an installation tutorial video.
If you ended up here from somewhere other than TIS, you can check out the forums for more details.
This Mod was inspired by the following Mods:
GunMod 0.2.0 by Austin
Fletchery 0.4.1 by Austin
Meal Ready-to-Eat by The_Real_Al
Changelog
10 Dec
Distro Script Completely Redone
Icon Issue Fixed*
Box Nails added to distro
*hopefully
Comments
You need to be logged in to write comments