by tommysticks
20. Nov 2013
TommyGuns 2
TommyGuns extra weapons mod!
Created by Tommysticks
This Mod adds the following:
Guns
Melee Weapons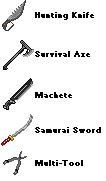 Misc
Please read the readme file, installation can be a little confusing. There is also an installation tutorial video. Tutorial video no longer current, some steps have been removed through updated versions of the game.
If you ended up here from somewhere other than TIS, you can check out the forums for more details.
This Mod was inspired by the following Mods:
GunMod 0.2.0 by Austin
Fletchery 0.4.1 by Austin
Meal Ready-to-Eat by The_Real_Al
Changelog
22 July 14
I'm starting to get a hang of lua (sort of), so distro script has once again been updated. Spawn rates are the same, but now I can properly tweak them.
Currently, the boomstick is not craftable, and does not work very well.
15 June 14
Update
14 June 14
Distro script un-fucked again. It still needs some tweaking, but it now functions better.
I updated some item icons and am in the process of adding more.
9 June 14
Just as I release an update with a better distro script, the update isn't compatible.
The mod works again, but the guns once again have an insane spawn rate.
1 June 14
New Distro Script added (that finally does what I wanted it to).
All items are now pretty rare.
Taclight removed due to update preventing it from working.
Updated for build 26.
More to come.